When I'm out thrifting one of my favorite things to find is old headboard and footboards.
So much in fact that I have a little collection in my garage of them.
They just hang out there until the time comes to do something with them, much to the annoyance of my husband who really one day would like to have his garage back.
(Maybe someone should tell him there is no chance of that in the near future)
Anyways, one day this little beauty came my way for under $20.00 so I brought it home.
It wasn't here but a day or two and a friend of mine came over and saw it.
She fell in love with it right away....it reminded her of the bed her grandparents had when she was little.
So sweet husband promised her that he would make her a bench out of it.
Now, here is why I call it the Friendship Bench.
In my dining area there is a bench on one side of the table
and it never fails that when friends come over this is where they like to sit.
It always makes me think of the quote
"Sit Long ~ Talk Much ~ Laugh Often"
Well this bench is going in her dining area and I hope she is blessed
with as many wonderful friends sitting around her table as I am at mine.
Now if I could just get her to pick out fabric we could get to making the pillows and seat cover.
Maybe that can be next weeks challenge.............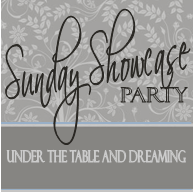 Come on over and join the party